Logitech's MX Sound 2.0 desktop speakers are the best option for most buyers out there. They have cool design, a reasonable price tag, the ability to easily switch between two audio sources, and sweet touch controls that light up when you reach toward the speaker.
AmazonBasics Computer Speakers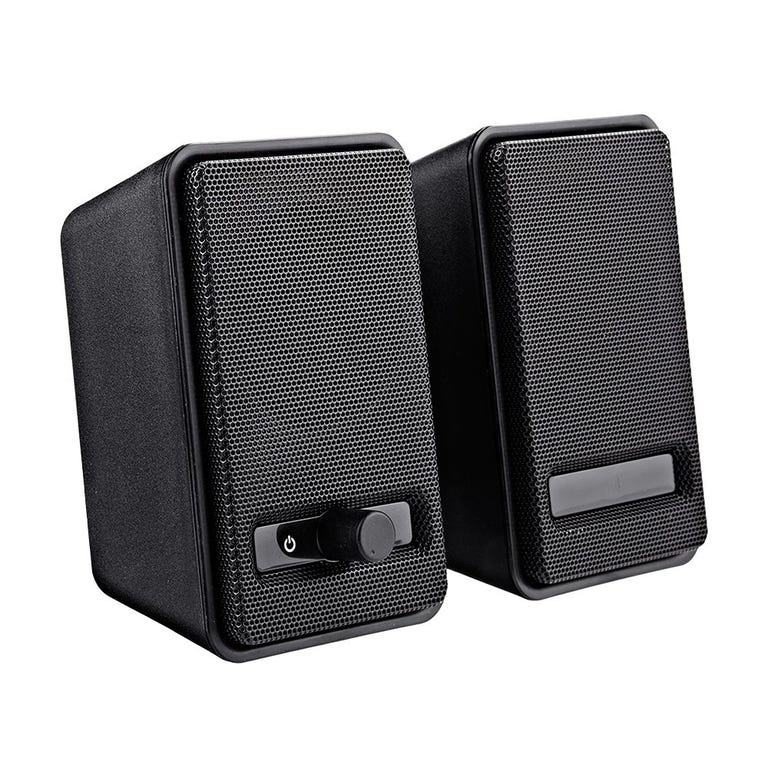 $12.95
No-frills design, compact size, good build quality, and an affordable price tag define these computer speakers from AmazonBasics. Their sound quality is also surprisingly good, considering how much they cost.
The speakers are powered via a USB cable, so you don't have to worry about a power outlet. You will, however, need to have a spare USB port on your computer.
KEF LS50 Mini Monitor​​ Speakers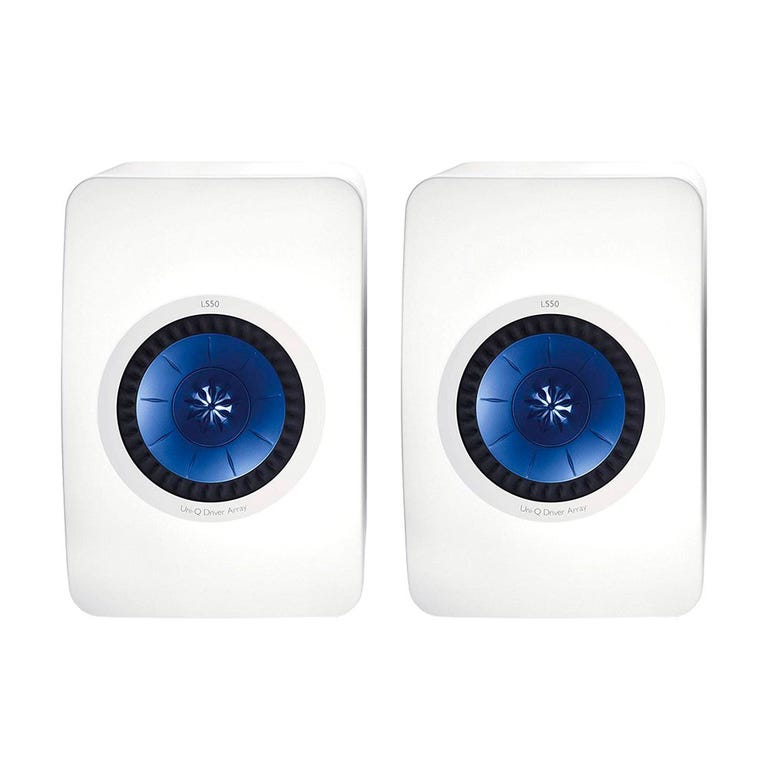 Buyers without any budgetary restrictions should have the KEF LS50 Mini Monitor desktop speakers on their shortlist. Gorgeous to look at, superbly crafted, and capable of delivering an exceptional sonic experience, the LS50 speakers are among the best in this product category.
There are two colors to choose from — piano black, or glossy white with electric blue. To enjoy the speakers to the fullest, we recommend that you pair them with a high-quality amplifier.
Logitech G560 Computer Speakers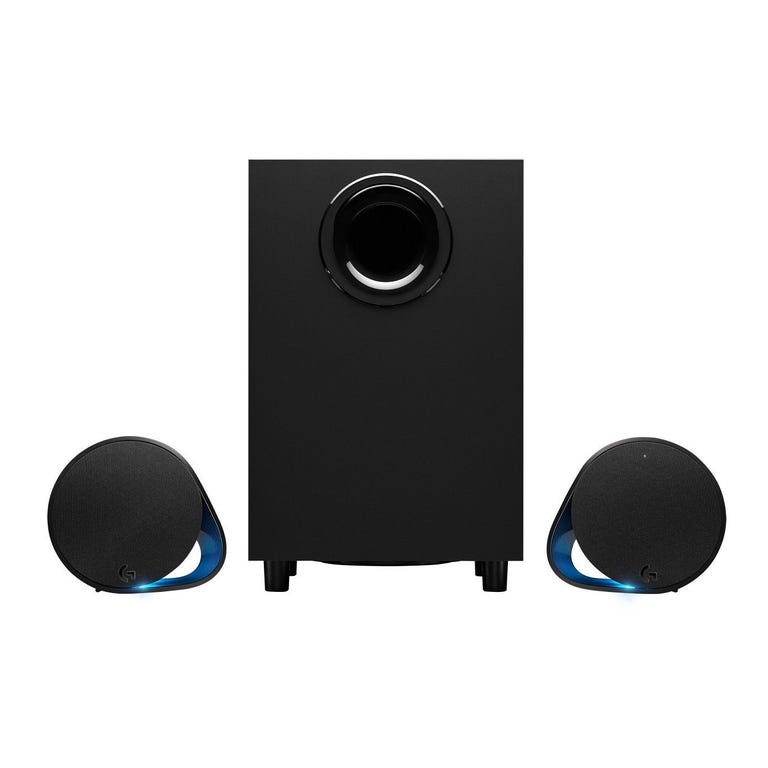 The Logitech G560 speakers are the best option for gamersavailable today. The 2.1 system has excellent audio quality, 240 watts of peak power, and built-in RGB lights that can sync with the content on your screen. Dubbed LIGHTSYNC, the lighting technology adds another dimension to the gaming experience.
The G560 audio system has DTS:X support for a 3D audio experience, as well as conveniently placed controls on one of the speakers. Bluetooth connectivity is also on board in case you want to pair a mobile device.
Creative Labs Sound BlasterX Katana Desktop Soundbar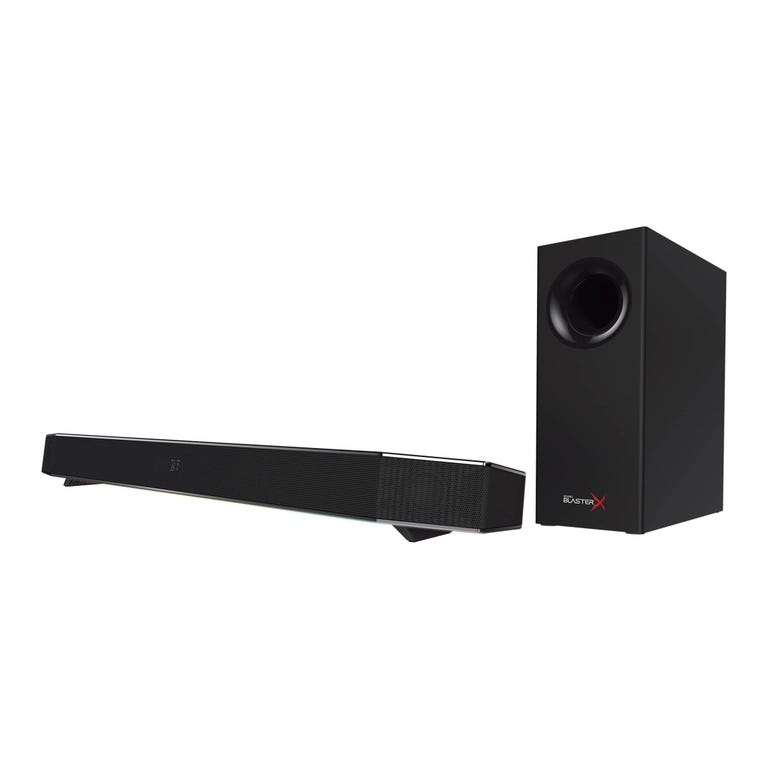 If you are looking for a desktop soundbar, the Sound BlasterX Katana by Creative Labs is your best option. Designed to easily slot under a monitor, the feature-packed offering is capable of delivering a superb audio experience (including surround sound), courtesy of top-notch hardware components. They include a duo of up-firing bass and midrange drivers, two tweeters, and an external subwoofer.
The Katana is equipped with an RGB lighting system, which is great for both gaming and enjoying video content. Other key features of the soundbar include a built-in audio player that's compatible with USB flash drives, Bluetooth connectivity, and a bundled remote control.
Creative T15 Computer Speakers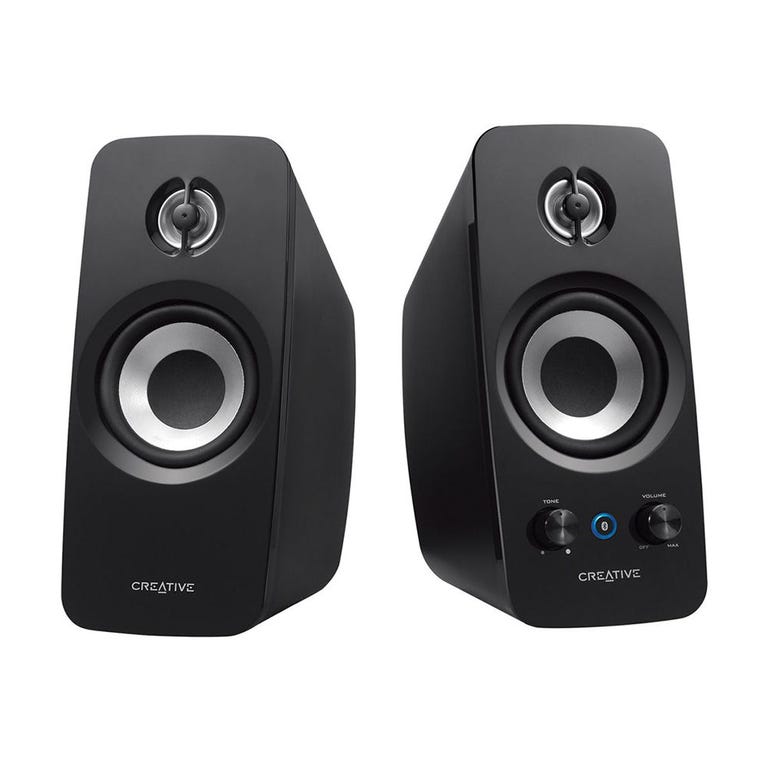 The Creative T15 computer speakers are a capable sub-$50 option with wired and wireless connectivity on board. Their audio quality is solid, thanks to a duo of drivers and a dedicated bass tube for more vibrant lows.
Like most Creative offerings in this product category, the T15 speakers feature convenient external controls. A headphone jack is also on board.
Edifier R2000DB Computer Speakers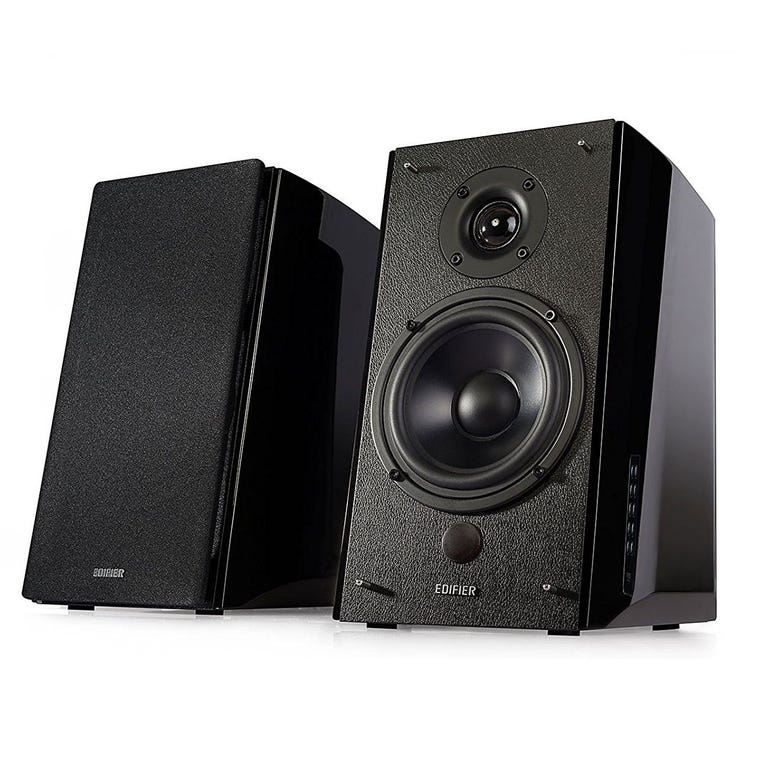 These Edifier bookshelf speakers feel solid and feature a striking two-toned look. You have a choice of cherrywood or piano black, but both colors are stunning. The speakers' sound is extremely balanced and full of texture. You won't find many speakers that sound as good in this price range.
The R2000DB is one of the few options that comes with a remote. We were also glad to see they support Bluetooth and have knobs on the side to adjust bass, treble, and master volume.
Logitech Z213 2.1 Computer Speakers​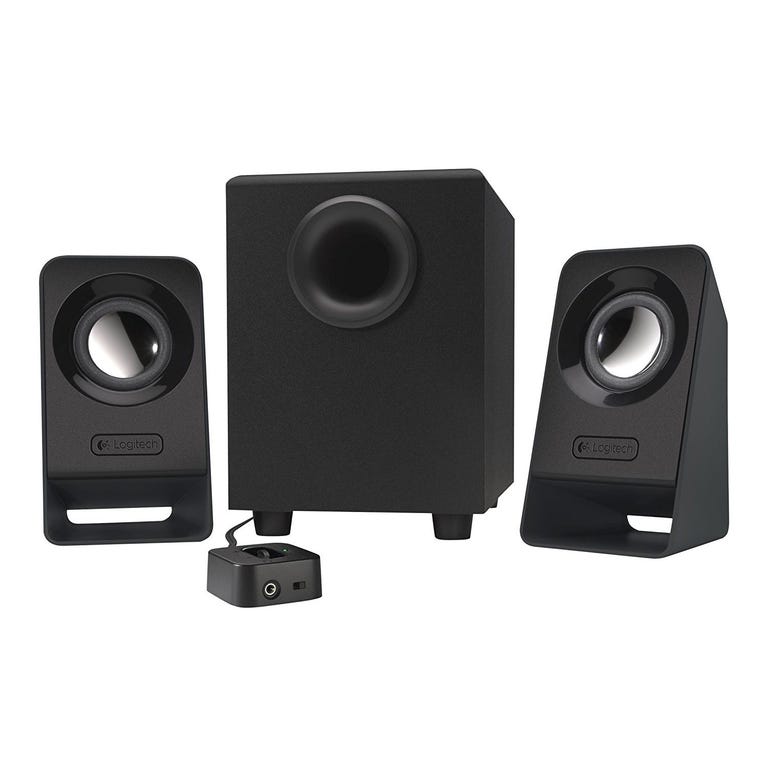 The Logitech Z213 computer speakers are a fantastic 2.1 option for buyers on a tight budget. Their audio hardware includes two single-driver speakers and a subwoofer that delivers surprisingly thumping bass for this price range.
Logitech has included handy external controls, which feature a dedicated knob on the sub for tuning the bass. The system has a wired pod with volume and power controls, as well as a headphone jack.
Razer Nommo Computer Speakers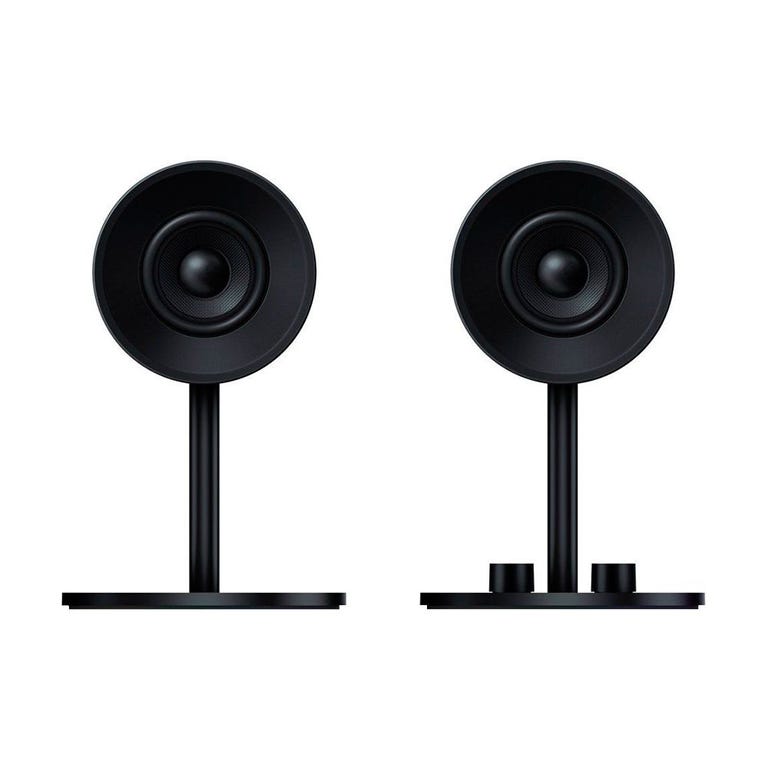 The Nommo computer speakers by Razer are another solid option for PC gamers with catchy design and top-notch audio quality. The speakers' audio signature has been tuned to deliver spatial depth that's essential for serious gamers.
There are two knobs on the right speaker — one for volume and one for tuning the bass delivery. Of course, the Nommo speakers also have a standard audio jack.
Mackie CR Series CR4 Computer Speakers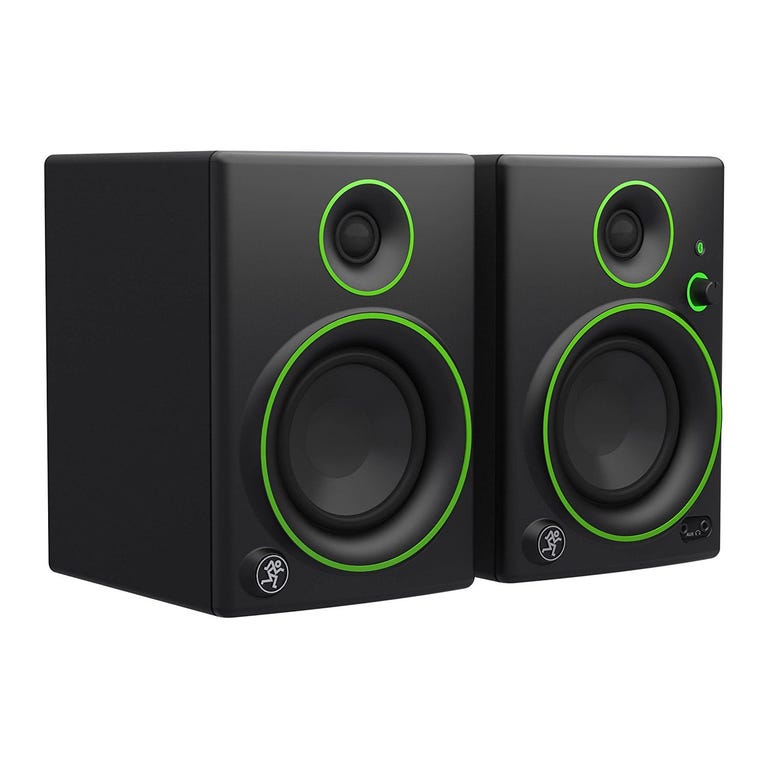 These speakers by Mackie provide a large, full sound. On the front panel, you'll find a jack for your headphones and an aux input, making it easy to use the speakers with your smartphone. If you don't want to have a wired connection, they even support Bluetooth.
The bass is a little overpowering at times, but overall, sound is detailed and much better than your computer's built-in speakers. Plus, everything like speaker cables and isolation pads are included, so you can get to listening right away.